Project WET
North Carolina Project WET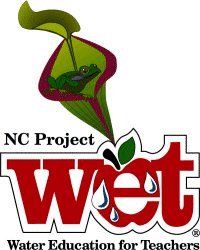 What is PROJECT WET?
Project WET (Water Education for Teachers) is an interdisciplinary water education program intended to supplement a school's existing curriculum. The goal of Project WET is to facilitate and promote the awareness, appreciation, knowledge and stewardship of water resources through the development and dissemination of classroom-ready teaching aids and through the establishment of state sponsored Project WET programs.
Project WET offers the educator activity guides and modules designed for K-12 students. By using Project WET services and resource materials, young people will gain the knowledge, skill and commitment needed to make informed decisions about water resource uses and conservation.
Who can get WET?
Classroom teachers, public and private schools, grades K-12
Resource agency educators
Preschool and daycare teachers
Youth organization leaders (i.e. 4-H, Scouts and Campfire)
Nature center instructors
Home School Teachers
Coming soon....Preschool Project WET
How can we get WET?
Contact: Lauren Daniel, North Carolina Project WET Coordinator
919-707-9009
Lauren.Daniel@ncdenr.gov
If you are interested in an out-of-doors opportunity for your students to get involved in a stewardship role, to implement what they have learned from the Project WET activities, you may be interested in adopting a stream, river, lake, or estuary near your school through the Stream Watch Program.
For more information visit the Stream Watch page.