Project WET
North Carolina Project WET
Project WET NC: Educator and Facilitator Training 2018

Morrow Mountain State Park

Cabins available!

WET Educator's Training

March 6, 2018 (10:00-4:00)

$40

(Lunch and WET 2.0 Guide)

WET Facilitator's Training

March 7, 2018 (9:00-4:00)

$40

(Lunch and  materials)

Who: Environmental Educators, K-12 Teachers, Anyone who works with children.

You will have fun learning about water education and curriculum activities offered by the renowned Project WET 2.0 Guide. 

Do you want to teach about how water impacts our Earth's surface?  How macroinvertebrates tell us about water quality? What does groundwater look like in different areas of North Carolina?

Register NOW for this workshop!

Who: Environmental educators, Teachers, Environmental Education Professional Development Instructors

We are expanding our network of WET facilitators!  Do you want to lead your own WET workshop at your Environmental Education center or school?  Well c'mon!  We look forward to seeing you. 

Facilitator's training requires previous participation in a Project WET workshop.  Don't have previous experience in a WET workshop?  That's okay- you can attend the one on March 6th! 

Register NOW for this workshop!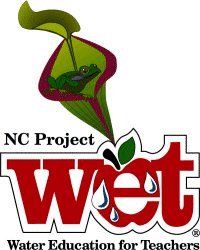 Details on Morrow Mountain's Workshop Series:
The Facilitator Workshop requires a brief application to provide an overview of the attendees' roles and responsibilities.  This workshop will be targeted to meet the specific needs of the participants. 
Outline of Project WET Educator's Workshop (3/6/18: 10:00-4:00)
Experience 5 WET Activities
Hike through the Project WET 2.0 Guide
Meet fellow educators, network and brainstorm ways to implement with your students
Outline of Project WET Facilitator's Workshop (2/7/18: 9:00-4:00)
Overview of Project WET/Getting Little Feet Wet: Mission abd Objectives
Relevant Division of Water Resources, well, resources.  (There's a ton!)
Learn how to lead 8 WET Activities
Overview of WET 2.0 Guide/Getting Little Feet WET (Preschool curriculum)/
Induction in to Project WET NC's Facilitator's Network (We're basically family now)
If you'd like to complete an application, Click Here and email it to Lauren.Daniel@ncdenr.gov. 
What is PROJECT WET?
Project WET (Water Education for Teachers) is an interdisciplinary water education program intended to supplement a school's existing curriculum. The goal of Project WET is to facilitate and promote the awareness, appreciation, knowledge and stewardship of water resources through the development and dissemination of classroom-ready teaching aids and through the establishment of state sponsored Project WET programs.
Project WET offers the educator activity guides and modules designed for K-12 students. By using Project WET services and resource materials, young people will gain the knowledge, skill and commitment needed to make informed decisions about water resource uses and conservation.
Who can get WET?
Classroom teachers, public and private schools, grades K-12
Resource agency educators
Preschool and daycare teachers
Youth organization leaders (i.e. 4-H, Scouts and Campfire)
Nature center instructors
Home School Teachers
Coming soon....Preschool Project WET
Upcoming Workshops:
Interested in receiving a Project WET 2.0 guide along with training to support your education and outreach efforts?  Upcoming Project WET trainings provide attendees with hands-on, fast-paced, and fun techniques for implementing water-awareness lessons with their students. 
2018
February
2/16: Airlie Gardens, Wilmington, NC
8:30-3:00
March
3/6: Morrow Mountain State Park, Albemarle, NC
10:00-4:00
3/14: CMAST, Morehead City, NC
8:30-3:00
3/23: Kathleen Clay Library, Greensboro, NC
May
5/5: Aquarium at Fort Fisher, NC
Time: TBA
How can we get WET?
Contact: Lauren Daniel, North Carolina Project WET Coordinator
919-707-9009
Lauren.Daniel@ncdenr.gov
If you are interested in an out-of-doors opportunity for your students to get involved in a stewardship role, to implement what they have learned from the Project WET activities, you may be interested in adopting a stream, river, lake, or estuary near your school through the Stream Watch Program.
For more information visit the Stream Watch page.