Mobile Sources Emissions Reductions Grant
2018 Diesel Emissions Reduction Grant
UPDATE
Apply now if you are interested in projects that fall under the DERA option which includes all nonroad vehicles such as:
Construction equipment
Agricultural equipment
Landscaping equipment
Locomotives (other than freightswitchers)
Many potential applicants are waiting to combine DERA funding with VW settlement funding, however, for the FY2018 grant cycle of DERA the VW settlement funding in North Carolina will not be available, due to the time constraints of the DERA grant cycle.  NCDEQ strongly encourages potential non-road project applicants, to apply by the November 2, 2018 deadline for DERA funding.
Request for Proposals
The Division of Air Quality (DAQ) is now accepting proposals to fund projects that reduce diesel emissions. Applications will be accepted through November 2, 2018.  Awarded projects are expected to begin in January 2019 and must be completed by August 30, 2019.
DAQ reserves the right to award less than the total amount of funding available.  Additionally, DAQ may also increase funding to an awarded project in good standing if additional funding becomes available.
Eligibility
Any private or public sector entity or individual stationed in North Carolina is eligible.
Available Funding
Approximately $694,910 is available for all projects funded statewide.  The DAQ expects to fund several projects.
How To Submit Your Proposal
Chose the application that best corresponds to your project type, nonroad or on-road, (also available for download below).  If you have questions about completing the application, please contact Jill Vitas at 919-707-8424 or via e-mail at DAQ.MSCB.NCDAQGrants@ncdenr.gov.
Download and complete the form in Adobe Acrobat Reader. The file includes an attached Excel spreadsheet that must be completed for the application to be submitted in its entirety for review.  The file should look like this screenshot when opened correctly.
If your screen looks like the screenshot below, you must save the form and reopen it outside of your browser window.  Once you have correctly opened the file it will allow you to save the form as well as the Excel spreadsheet.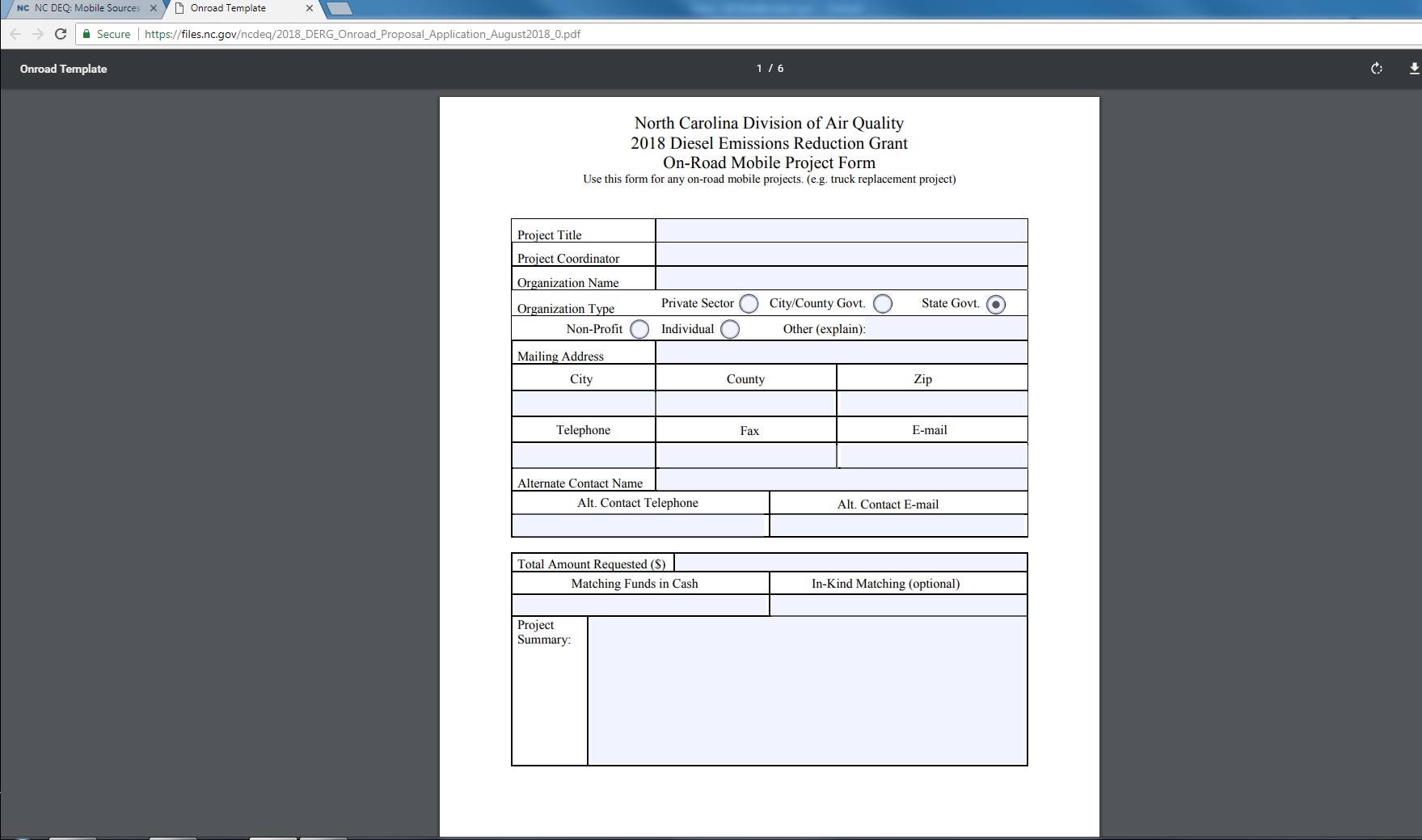 Application Deadline
Applications must be received electronically by Friday, November 2, 2018, no later than 5 pm Eastern Daylight Time to be considered.
Grant applications must be saved and opened from Adobe Acrobat Reader to submit the application.
Receive Grant Notifications
Send an e-mail request to daq.mscb.ncdaqgrants@ncdenr.gov to receive notification of future grants with the following information: Enter "Grant Notification" in the subject line and include name, telephone number, affiliation and e-mail address or addresses to which you want the notification sent.