Artificial Reefs
The North Carolina Division of Marine Fisheries maintains 43 ocean artificial reefs and 25 estuarine reefs, 14 of which serve as oyster sanctuaries. Ocean reefs are located from less than a mile to 38 miles from shore and are situated so that they can be reached from every maintained inlet in the state. The estuarine sites are found in Pamlico Sound and its tributaries, Bogue Sound, the New River, and the Cape Fear River. Estuarine reefs are marked on each corner with 13-inch diameter white buoys or three-pile dolphin markers.
Interactive Reef Guide
The division has developed an interactive map of the different artificial reef locations, as well as the location of coastal WRC boat ramps. Use the Interactive Reef Guide by clicking below.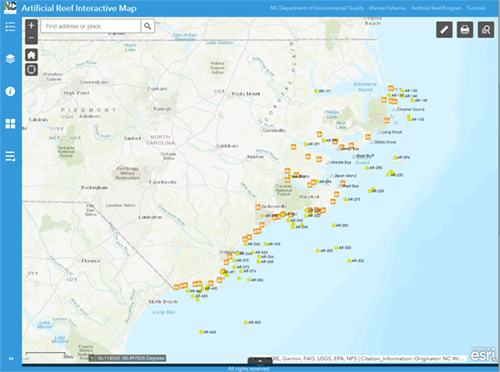 View the Interactive Reef Guide
Reef Guide Publication Now Available
Don't forget to pick up the Artificial Reef Guide at your nearest Division of Marine Fisheries office. It's 132 informative pages printed on a durable, water-resistant paper stock. Alternatively, download a pdf version below.
About Our Reefs
About Our Reefs
Download the Artificial Reef Master Plan 
Why Build Artificial Reefs in North Carolina?
Simply said, reefs create habitat for fish; fish habitats contribute to healthy fish populations; and healthy reef populations provide great fishing sites.
Although naturally productive reefs occur along the coast and estuarine waters, much of the coastal and estuarine sea floor is flat, featureless sand or mud. When materials are placed on the sea floor to provide structure where there was previously none, they soon become encrusted and colonized by marine organisms, such as barnacles, soft corals, sponges, shellfish, and various plants or seaweeds. This attracts small bait fishes that provide food for larger predatory fish. The three-dimensional structures replicate the ecological functions of food and refuge provided by natural hard bottom habitat.
Artificial reefs are considered crucial spawning and foraging habitat for many commercially and recreationally important fish species — so much so that the N.C. Coastal Habitat Protection Plan recommends expanding reef construction to offset past habitat degradation, habitat loss, and water quality degradation that can negatively impact coastal ecosystems.
In North Carolina, there are two types of manmade reefs that contribute to habitat restoration efforts: oyster sanctuaries and artificial reefs. The primary function of an oyster sanctuary is to create oyster habitat that will provide brood stock and generate oyster larvae, while supporting diverse and abundant finfish populations. North Carolina builds oyster sanctuaries in areas where oysters will thrive. Artificial reefs are built with finfish production in mind, using a variety of materials and supporting scientific research to maximize their success. These reefs are located all along North Carolina's coast in nearshore and offshore ocean waters, as well as in the sounds.
Support for the North Carolina Reef Programs
North Carolina has one of the most active reef enhancement programs in the country, due in part to wide public support and dedicated Division of Marine Fisheries staff, who develop, maintain, evaluate, and administer the reef systems. The division's reef programs receive funding from the North Carolina General Assembly, the U.S. Fish and Wildlife Service Sport Fish Restoration Program, the North Carolina Coastal Recreational Fishing License Grant Program, as well as from private donations for the enhancement and biological sampling of reef sites. Private reef associations, fishing clubs, and other active civilian participants also offer logistical and practical support by generating funds, donating materials, and providing input on future enhancement projects.
Fishing the Reefs
Fishing the Reefs
North Carolina's artificial reefs are home to a variety of recreationally and commercially important species. The species present vary with water temperature and the geographic location of the reef. The fishing calendar provided below shows common times when each species can be found at artificial reefs. We consider nearshore reefs to be located 0-5 miles off the beach, and offshore to be 5+ miles from the beach. For the most up to date information on rigs, techniques, and what's biting, visit your local tackle shop or view the division's weekly Recreational Fishing Reports. Before going fishing, be sure to check the current regulations.

Disclaimer: this table shows what is present on the artificial reefs, but it does not represent what is legal to harvest. Check current regulations before going fishing. 
Diving the Artificial Reefs
Diving the Artificial Reefs
In recent years, artificial reefs have contributed significantly to the growth of recreational scuba diving in North Carolina waters. The diversity of fish and the interesting assortment of material types make North Carolina artificial reefs favorite areas for divers to visit. North Carolina offers world-class diving opportunities and is often hailed as the top wreck-diving destination in North America. Besides sight-seeing, sport divers visit artificial reefs to explore history and enjoy underwater photography, videography, spear fishing and more.
Diving conditions on North Carolina's artificial reefs vary greatly, but water temperatures, visibility and weather conditions are most favorable between June and October. With summer water temperatures hovering in the mid-80s and visibility of more than 100 feet, North Carolina artificial reefs can offer Caribbean-like diving without the lengthy travel. However, conditions are not always this favorable. Currents and visibility are dependent upon weather conditions, water depth, distance offshore, tidal stage, time of year and many other factors. Divers should always use caution when planning trips, as water temperatures may be as cold as 50 degrees in the winter, visibility may be reduced to a foot or less and currents may be strong. Choose days wisely and enjoy.
History of North Carolina Reefs
History of North Carolina Reefs

The sinking of the Schoolhouse.
Fishing has always been an important aspect of life in Eastern North Carolina. The sounds and estuaries, the many rivers and creeks have served as a source of food, livelihood, and recreation since the first Native Americans moved here several thousand years ago. While the fundamentals of fishing have changed very little over the centuries, new technology, better fishing opportunities and more coastal residents have made the pursuit of fish more popular than ever.
In the early 20th century, a select few fishermen knew the locations of natural rocks and reefs, guarding them in secrecy as favored fishing spots. As time progressed, the secrets got out and coastal North Carolina became known as a world-class destination for sport fishing. During the 1920s and 1930s the fledgling sport fishing industry continued to develop, and by the close of World War II, sunken vessels were sparking interest. Fishermen began to realize that vessel casualties of the war had a silver lining – habitat for diverse and abundant marine life, including fish to catch.
Unfortunately, for most recreational fishermen at the time, many WWII vessels were too far offshore and out of range for their small fishing boats. Only on the calmest days, and at considerable risk, could smaller, private fishing craft enjoy the sport offered by the wrecks. Accordingly, during the 1950s and 1960s, a number of fishing clubs attempted to build their own reefs closer to some of North Carolina's navigable inlets.
Early attempts at reef construction were haphazard affairs. Automobile bodies, washing machines, old automobile tires, scrap concrete and numerous types of other materials were dumped at selected locations offshore in an effort to provide areas where recreational fishermen in small boats could fish. In 1964, the Fabulous Fishing Club of Morehead City obtained a permit from the U.S. Army Corps of Engineers to construct an artificial reef about 2 miles off Atlantic Beach, at Latitude 34° 40' North, Longitude 76° 45' West. That reef, constructed primarily of rubble from the old Newport River Bridge and tire units, formed the basis of what is today AR-315. Also, during the 1960s local fishermen established two ad hoc fishing reefs off New Hanover County. Founders of these reefs marked locations off Wrightsville Beach and Carolina Beach, and constructed habitat using their personal boats to transport small items such as weighted automobile tires, old stoves, and washing machines.
These do-it-yourself reefs did improve inshore fishing, but they had little profile to attract the larger mid-water species, and they tended to get covered by sand quickly. However, in areas where reefs were built, they were generally considered successful, even if only for a short time. The reefs attracted fish, the fish attracted fishermen, and the fishermen spent money. Commercial fishermen also found that often their catches were greater in the vicinity of a reef than had previously been the case.
In 1969, Mr. Meares Harriss, Jr., Vice Chairman of the New Hanover County Commissioners, spearheaded a move to have two tugboats, Firefighter and Mohawk, added to the reefs to give them better profile. The vessels were donated by the Stone Towing Line of Wilmington. The sites selected for the reefs were on hard bottom to prevent the old tugs from sinking into the sand. Both vessels were sunk in June 1970, resulting in vastly improved fish catches in the area.
The success of the early artificial reefs did not go unnoticed by what was then the North Carolina Division of Commercial and Sports Fisheries (now the North Carolina Division of Marine Fisheries). By the early 1970s the Artificial Reef Program was under development and most of the existing private reefs were quickly absorbed into it. In 1972 the federal Maritime Administration Artificial Fish Reef Program was established under Public Law 92-402. This program authorized the Secretary of Commerce to transfer over-aged Liberty Ships in the National Defense Reserve Fleet to any state applying in accordance with the law's procedures for use on artificial reefs. Between 1972 and 1978 North Carolina acquired four Liberties as additions to its reef system — the start of modern artificial reef enhancement in North Carolina.
Using diverse materials and coordinating with numerous public and private entities, the Artificial Reef Program developed into one of the most active state enhancement programs in the country. Over the past several decades the Artificial Reef Program has constructed and maintained a total of 43 ocean and 26 estuarine reefs, 14 of which also serve as oyster sanctuaries. The ocean reefs vary considerably in depth and distance from shore, though they are situated so that they can be reached from every maintained inlet in the state. The estuarine reefs are found in Pamlico Sound and its tributaries, Bogue Sound, the New River, and the Cape Fear River. Decommissioned vessels, concrete scrap, prefabricated reef units, and other rock can be found throughout the artificial reef system, providing substance and profile to what was once bare sand bottom. Today's artificial reefs host thriving biological fish communities and are a playground for fishermen, divers, and biologists alike.
Safety and Etiquette
Safety and Etiquette
Observe all state and federal fishing regulations.
Complete dive courses and obtain all necessary certifications.
Fish responsibly; use circle hooks, and vent fish when necessary
Do not tamper with commercial fishing gear
Do not harvest oysters from oyster sanctuaries
Do not litter or throw any trash overboard. Remember, fishing line, plastic, and other garbage can kill fish, turtles, and birds. It can also entangle and endanger divers. Bring garbage back to the dock and dispose in an appropriate receptacle.
First come, first served: Be courteous and give anchored boats a wide berth.
Do not dive on artificial reefs where fishermen are drift fishing, due to the presence of moving fishing gear.
Display an appropriate Diver Down flag when divers are in the water.
Watch for divers. Stay away from boats displaying a Diver Down flag.
Always proceed with caution if there are Diver Down flags. Watch for diver's bubbles.
Immediately release all live fish and shellfish that you are not planning to keep.
Be aware of your surroundings and use caution when diving.
Artificial reefs may contain sharp or jagged surfaces.
Respect the environment you're visiting.
Please do not touch coral or pick up any marine creatures. This can damage or even kill the creatures you're visiting.
Dive at your own risk.
Reef Materials
Reef Materials
Artificial reef materials are selected based on four primary considerations: function, compatibility, durability and stability. Materials used must meet their intended function by supporting diverse and abundant biological communities. Selected materials must also be compatible with the aquatic environment in which they are placed. This means they must not pose environmental risks. Also, unstable materials, or those prone to movement, or easily degraded, must be precluded from use.
Artificial reef materials must also meet several state, regional and federal guidelines, including guidelines set by the North Carolina Artificial Reef Master Plan, the Atlantic States Marine Fisheries Commission and the Gulf States Marine Fisheries Commission guidelines for Marine Artificial Reef Materials, the Environmental Protection Agency's National Guidance: Best Management Practices for Preparing Vessels Intended to Create Artificial Reefs, and the 2007 National Oceanic and Atmospheric Administration and the National Marine Fisheries Service National Artificial Reef Plan. 
Types of Artificial Reef Materials
Vessels
Vessels are not only allowed to enhance ocean reefs but have proven to function as safe habitat offering trophic support for fishes and invertebrate communities. Vessels also provide a place for scuba divers to explore and a dynamic habitat for fishermen to fish.
Precast Concrete
Precast concrete includes various sizes of concrete pipe, culverts, junction boxes, and manhole sections. Usually, these materials have some defect or crack that makes them unsuitable for sale by the manufacturer. These materials are often nested inside one another to provide more complex habitat.
Reef Balls© 
A Reef Ball is a designed habitat that resembles a small igloo with many holes leading into a hollow interior cavity. Reef Balls have openings where fishes can evade predators. They also have surface area for invertebrates to attach.
Demolition Concrete
The Artificial Reef Program obtains concrete from the demolition of bridges, roadways piers and through other avenues. This material can vary in size from boulder-sized pieces, to pilings, to large bridge spans. The concrete is deployed piece-by-piece from barges with heavy equipment. Multiple loads can be dropped on top of each other to provide higher vertical relief from the bottom. 
Natural Materials
Most coastal states, including North Carolina, use natural materials to create and restore various habitats. Natural materials most often include quarried stone such as limestone marl, granite, and basalt.
Opportunistic Materials
Fishermen and divers will find materials such as military aircraft and train boxcars on North Carolina's artificial reefs. These materials are experimental and opportunistic in nature. This means, these types of materials are rarely available, but when they are available, the Artificial Reef Program takes advantage of them as a way to enhance the reefs at a low cost. All materials that go on a reef site are cleaned and evaluated for function, compatibility, stability, and durability before deployment.
Contact